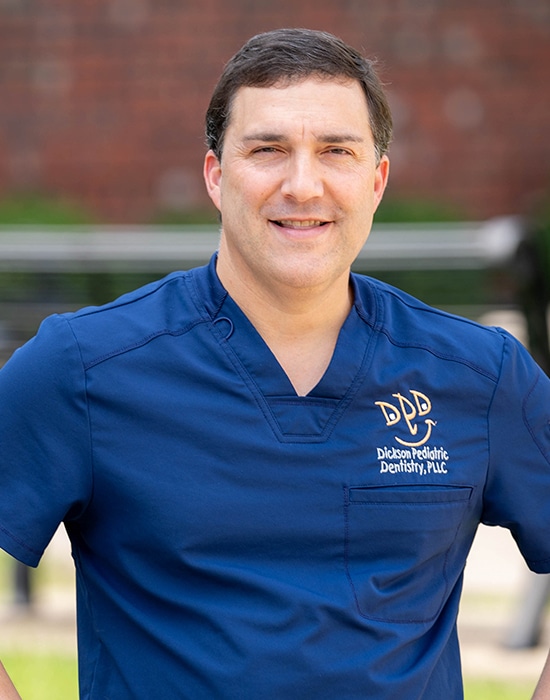 Dr. John Stritikus, a Board-certified pediatric dentist, has been in private practice since 1999. He is now proudly seeing 2nd generation patients as he is treating the children of now adult former patients. Dr. John attended Auburn University in Montgomery, the University of Tennessee College of Dentistry and completed his Pediatric Residency at the University of Tennessee College of Dentistry. 
Dr. John has extensive training and extensive treatment rendered for patients with medical issues at prestigious hospitals such as Le Bonheur Children's Hospital, St. Jude's Children's Research Hospital, and Vanderbilt Children's Hospital. Dr John believes in treating every child as an individual and therefore utilizes many methods to provide children with the best and most comfortable dental experience possible.  
In 2021, Dr. John completed training in infant Tongue Tie releases and is treating those here in our office. A Waterlase MD laser was used since 2005 to treat older patient's frenums.  Now we have a CO2 laser to treat infant's frenums.  
Dr. John is an active member of many professional organizations including the American Academy of Pediatric Dentistry, the American Dental Association, the Southeastern Society of Pediatric Dentistry, Nashville Dental Society, and the Tennessee Dental Association. He is dedicated to providing all of his patients with the most comprehensive and advanced pediatric dental care available. 
Away from the office, he and his wife Amy stay busy with their 2 children, John Harold and Olivia, and their family and children's activities. They also have beloved golden retrievers that add to the family's fun and busy schedule!!  Functional Fitness routines at least 3 to 4 times a week keep him moving as well. ​